Custom Biker Patches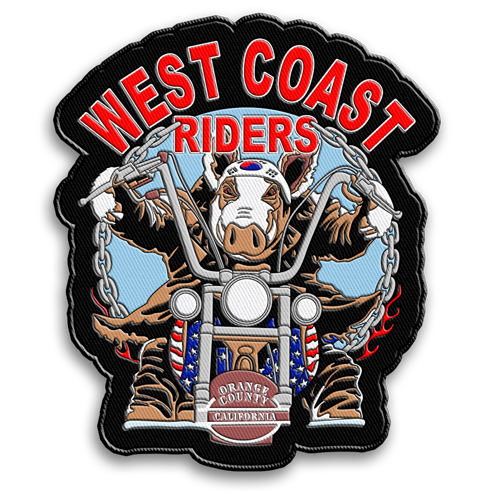 Bikers around the world wear their gear proudly and custom biker patches are an important part of the dress code. Bikers proudly display their colors, logos and affiliation. Riding their bikes, hair in the wind, bikers are a proud group of people. Affiliation is important and biker groups are like brothers. That is why a beautifully designed custom biker patch is an integral part of the biker's uniform. Having the right design done according to your personal taste and style – with colors and material that will last for a long time – is paramount. Your custom designed biker patches will withstand the wear and tear of the biker's lifestyle. Our custom designed patches will survive the toughest weather and circumstances.
Not a biker but wish to show your love for your favorite bikers? Our custom designed patches are exactly what you've been looking for. Support and display your bikers solidarity with an exceptional, custom designed patch from The Patch People.
Attaching Your Custom Biker Patches
Attaching our embroidered custom biker patches is very easy.  Our custom biker patches come with a large choice of backings including PVC backing, Velcro, Peel N' Stick or Iron-on. Our strong and durable backings will assure that your custom designed patches withstands the rigors of a biker's  life – and then some. Attach your custom designed biker patches to your favorite shirt, your leather jacket, or any other apparel.
Ordering Your Custom Biker Patches
Even if your custom design idea is vague we will work with your design concept to create a beautifully embroidered custom bikers patch.  Our priority is to make the ordering process smooth and hassle free. Your satisfaction is what matters most – and our staff will assure that you are pleased with your exquisite custom bikers patches. Your opinion is what matters most and we will not rest until you are completely satisfied Our trained artists have a lot of ideas and concepts in designing your custom biker patches.